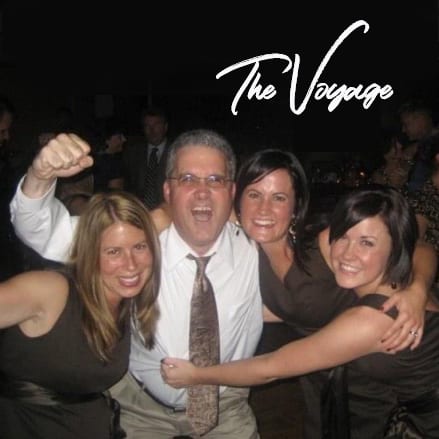 There was dancing …
Some years back, I spent a night of celebration dancing with my daughters and daughter-in-law. It was amazing. And I think they had fun too. Somewhere along the line I realized I had never danced with my daughters before. Ever. On one hand, it made me feel great. But on the other hand, it made me very sad. I knew I had to write a song about it. Life Changes Colors is that song.
My wife, Martha, is without question my most helpful and constructive critic. I told her about my idea and Marth's response was something along the lines of "but it won't be about actual dancing, right?". To which my mouth said "well, not exactly", while my mind said "well … yeah". It was her way of asking, where will the depth come from? Which of course was a valid question.
Enter the double entendre. I'd never written an entire song with a double meaning before, but this seemed like a logical technique to try. The double entendre is fairly common in songwriting. The lyrics are written on a light, even superficial level, while the reader/listener wonders … what do they really mean?
The Beatles were masters of the technique. What in the world was Yellow Submarine all about? Was Lucy In the Sky With Diamonds about LSD? I Am The Walrus? Wut? Who was Sergeant Peppers, and did he really have a Lonely Hearts Club Band? They became so proficient at it, we assumed that nearly everything they wrote had a double meaning and started playing their records backwards just to be sure we didn't miss anything. Of course they were songwriting geniuses, and I'm certainly not … but I still wanted to give it a try.
The first verse
There you sit by yourself, all alone
The fun's just dancin' by
Sure, it's true you don't have any moves
So, you don't even try
Full disclosure. The first verse is about me. There's no question it accurately describes the position I've found myself in many times, watching the party on a wedding reception dance floor. In the spirit of the double entendre, I'll leave interpreting the deeper meaning to you. But it's pretty accurate too.
The chorus
I do want to talk about the chorus a bit though, because it relates directly to what I've been experiencing.
Don't be shy nobody really cares 
Close your eyes no one is even there 
Life gets better if we just let go and take a chance 
Life Changes Colors when we dance
Walking through life, just as on a crowded dance floor, we're alone – but not alone. Sometimes we're uncomfortable when we don't need to be. Sometimes we're scared when we don't need to be. The people who love us don't care if our dance moves are clumsy. They're just happy we joined the party. Speaking for myself, my life efforts feel pretty clumsy, more often than not. Particularly, my current efforts. But I'm so thankful and appreciative that so many people have made it clear that they don't care about that. While it's so tempting to allow success or failure to be defined by external, commercial measurements, I've chosen to view it differently. I'm just asking myself whether my life is changing colors or not. And it is. While sometimes it feels pretty lonely – I know I'm not alone. At all. And that makes me very thankful and humbled.
So where did the music start?
Before I tell you where the music began, I need to explain something that I'm certain is true for every musician and songwriter. We all have artistic ideas that have long been lost in the Great Sea of Forgetfulness. Lyrics, chords, solos, arrangements, themes … you name it, we've forgotten it. That's why musicians go to bed with notebooks on the side table. And songwriters leave singing voice mails to themselves. I still have discs from my first Atari. I need to find a working Atari 1040 because I have an idea on one of those discs that I've hopelessly forgotten. It's maddening. So, when we get an idea, somehow, someway, we need to grab it.
One more thing I should tell you. You never know what is going to conjure up an idea. You just have to go with it.
I usually start with the groove
The music for Life Changes Colors started with me brushing my teeth. My electric tooth brush was laying down a particularly groovy beat one morning and the next thing I knew there was a guitar lick going on in my head. Fortunately, I was alone because it was probably an embarrassing sight. But this was a new lick for me, and I knew I needed to catch it. Right now. I rushed downstairs, grabbed my guitar, and picked this out.
I mentioned a couple of posts ago that Elvin Bishop was a major influence on me back in my formative years. Right away this struck me as a good place to go for that classic, live, good-time Elvin Bishop vibe. I think all the players bought into that. Luke DeJaynes played drums and guitar, Mark DeJaynes played bass, and Steve Dee played guitar. For the solo, I was originally thinking guitar. I don't have a very deep bag of tricks when it comes to soloing, but it occurred to me that this might be the spot on the record to pay homage to the unquestioned dominant influencer of my piano playing – Leon Russell.
We played this one pretty much straight up – no special instrumentation or production. I wanted it to sound live, just like a band would play it on stage. As I'm discovering from industry folk, that's apparently old school. I can live with that … I just hope it makes you feel like dancin'.
Rock on,
---
If you haven't downloaded your free copy of The Dream yet, click here:
---
Feel free to cruise around the website:
---
Please share with a friend!